Marltons Dog Cupcake Mix - Peanut Butter
1 x 250g Peanut Butter Cupcake Premix
Product Code: 7953C
V2661 (Act 36/1947)

Making baking for your dog as simple as "just add eggs, oil & water". The new Marltons Home Bakes range for dogs, turning every day treats into something special! Marltons Home Bakes Cupcake mix in Peanut Butter are for culinary pups only!

Just add vegetable oil, eggs, water, and peanut butter

Simple recognisable ingredients
Gluten Free
Includes dog friendly frosting
Easy to follow and familiar, just like baking a 'box cake'
Make it special or make it every day, celebrate birthdays, Valentine's day, Christmas or just because "you're my dog" day
Contains NO sugar
Ingredients:
Rice flour, baking powder

Icing Ingredients:
Tapioca starch
Just add peanut butter

HOW TO MAKE 12 DOG FRIENDLY CUPCAKES

JUST ADD:
½ cup of peanut butter* (smooth or crunchy), 1 large egg, 2 tbsp vegetable oil, 1 cup water.
*sugar free and no Xylitol

BAKING DIRECTIONS:

Preheat Oven to 180C
Prepare a cupcake pan with liners and set aside
In a bowl, beat the egg, oil, peanut butter, and water together
Empty the Marltons Home Bake Premix into a bowl
Add the wet ingredients to the dry and mix for 2 minutes
Spray the cupcake liners with a nonstick baking spray
Fill the cupcake liners about ½ and bake for ±15 minutes
Cool completely before frosting
NOTE: cooking times may vary

DOG FRIENDLY FROSTING:
1. Empty the frosting pack into a small jug
2. Add 1 tbsp Peanut Butter, 4 tbsp of water and mix well
3. Pour over room temperature cupcakes
4. Leave to harden slightly

IMPORTANT: Wait for cupcakes to cool completely before feeding to your dog. Our product contains no preservatives and is best served within 2 days.
View full details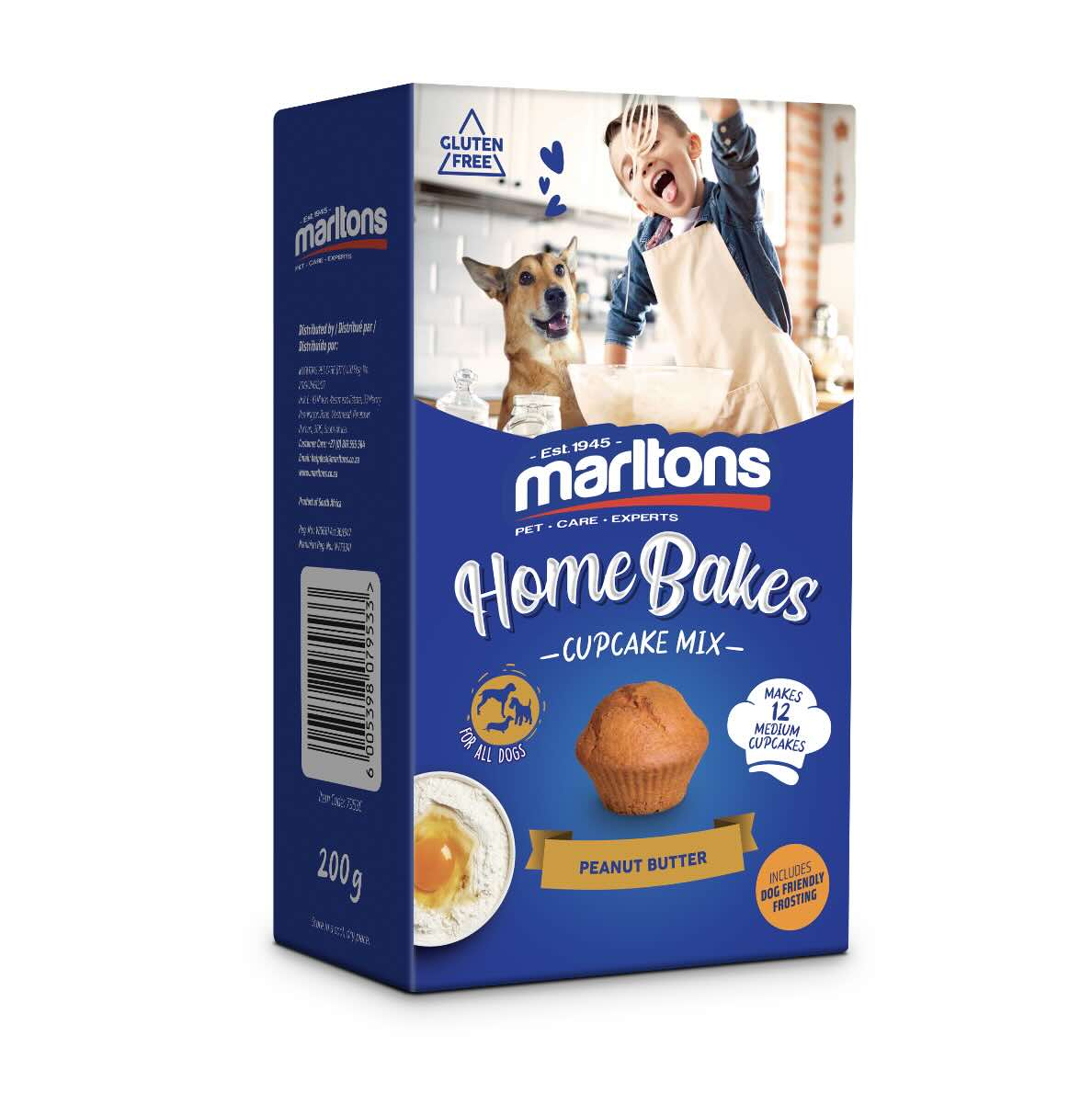 Shop Online At These Stores
You can find Marltons at all major retailers in South Africa, and if you prefer to shop online
then click on one of our recommended online retail partners below to browse, shop and home delivery.